More than 80 years growing with you
LABORATORIOS ERN S.A. is a nationwide pharmaceutical laboratory, with headquarters in Barcelona. It currently manufactures and markets the majority of the more than 20 million units it places on the market each year, contributing to the pharmaceutical industry with more than 35 active ingredients distributed in more than one hundred references. LABORATORIOS ERN makes traditional medicines available to doctors and patients at a very affordable price for everyone. In addition, it is highly specialized in paediatrics, providing paediatric medicines characterized by their pleasant palatability and by applying dosage systems adapted to the needs of children.
Recently, adapting to new market needs, it has significantly increased its portfolio of products in the self-care area, thus contributing to maintaining people's quality of life. Remaining faithful to this model has meant remaining active in the pharmaceutical sector, successfully adapting to the changing environment, the technification of the sector, health requirements and competition.
Founded in 1942, it has come to the present day through successive mergers of twelve small laboratories over its more than 80-year history. During all these years, the aim has been to identify the therapeutic needs of healthcare professionals. Making available medicines they can trust, both for their quality and their easy-to-use characteristics.
Between 1962 and 1964 LABORATORIOS ERN incorporates several small laboratories like: Laboratorios Vitulia, Laboratorios Chemirosa, Laboratorios IBSE, Laboratorios IFBE.
Aggregating products for gastrointestinal health or parenteral solutions.
Years later, the refurbishing of the building located at calle Pere IV 499 in Barcelona was inaugurated, where the company's new headquarters were located. 
The first laboratories, factory, and offices were located on these premises.
The latest addition to join LABORATORIOS ERN was Laboratorios LEVEL, incorporating medicines of the prestige of Penilevel®. 
Penilevel® was the first Spanish penicillin-based injectable with a retard formulation that allowed for a single daily administration.
Penilevel® Retard, with more than 40 years of history, continues to be accepted by many prescribers.
Other references were the oral penicillins (Penilevel® sachets and Penilevel® capsules), which today represent the treatment of choice for streptococcal pharyngotonsillitis.
APIRETAL®, first Spanish paracetamol in drops
The innovation consisted in providing the paediatrician with an antipyretic medicine that would allow the dosage to be precisely adapted to the child's weight. 
Apiretal® is today the reference paediatric antipyretic present in all households with children.
Construction of a new manufacturing facility
In order to meet the new commercial and business needs, a 6,000 m2 new manufacturing facility located in Perú Street in Barcelona was builded.
The first medicines manufactured at this location were hospital drugs such as Vitulia® serums.
All manufacturing is concentrated in calle Peru location, making it the only production centre at that time. 
The building in calle Pedro IV remains as the company's offices exclusively.
Joint-Venture with Capital Pharma
A Joint-Venture is initiated with CAPITAL PHARMA, a company specialized in food supplements.
With this agreement, LABORATORIOS ERN begins the marketing and promotion of OTC CAPITAL PHARMA and PHARMA OTC S.L. products in pharmacies as a point of sale.
Launch of a new asset purchase strategy
A strategic change took place in the last five years of the 20th century. The hospital market was abandoned in favour of the incorporation of new prescription medicines, contributing to the growth of the company.
This business strategy continues today, and during its course has incorporated prescription medicines such as:
– Adrenalina®, Amantadina® and Aftajuventus® to Grupo Llorente (1997)
– Terbasmin® to Astrazeneca (1999)
– Fosfocina® a Schwartz-Pharma Strain (2002)
More recently, in 2017, it took place the national purchase of Fortecortín® and Dacortín® from Merck.
First ORS incorporating pleasant flavour in its formulation
As a complementary strategy to the purchase of active pharmaceutical ingredients, a process of product improvement was initiated with the aim of adapting them to paediatric patients, offering extra benefits and improving their adherence to treatment.
One example of these developments is Citorsal®, a modified oral rehydration solution. Its main contribution was the addition of a pleasant taste, avoiding the possibility of therapeutic failure, as other saline solutions generated rejection due to their bad taste.
The company's new business strategies forced to expand the facilities. 
Thus, the logistics warehouse facilities located in Sant Andreu de la Barca are inaugurated. This warehouse has a surface area of 12,000 m2, of which 6,900 locations are available for the storage of finished products.
Ionfarma S.L.u: A division for OTC products
The evolution OTC marked has followed a sustained growth. Attending to this trend with the aim of improving the customer service, LABORATORIOS ERN decides to separate OTC activity  from the others.
For this reason, since 2004 IONFARMA SLU takes charge of OTC activities.
Refocusing the commercial model: from medical visit to mixed (sales + visit)
The "New Medicines Act 2006" and the consequent implementation of the reference price system, changes in the prescription system and competition from generic medicines, prompted LABORATORIOS ERN to implement strategic changes at an early stage.
Fundamentally, to reconvert the traditional commercial network of the medical visit into a mixed network of pharmacies' salesforce and medical visitors.
The results of this conversion have been sustained sales growth and the creation of a broad customer base (pharmacies) that did not previously exist.
Given the growth of the company, it was decided to purchase a new production facility in Barberà del Vallès with a surface area of 7,776 m2. This site has been operational since 2011.
This new Production Centre is where the majority of the company's own drug production is concentrated.
First Apiretal® out-licensing
Begins the exportation of Apiredol® to Maspex Poland by mutual recognition, known as Pedicetamol®.
In line with the company's growth and the need for space for administrative and commercial departments, it was decided to move the offices to calle Perú 228, together with the company's headquarter.
75th Anniversary Celebration
The importance of this milestone lies in the fact that from its inception to date, more than 350 companies operating in the pharmaceutical market, some of them with undeniable success, have disappeared for distinct reasons.
Despite this, LABORATORIOS ERN celebrated 75 years with excellent business health, which is a source of pride for owners and employees and allows us to face the future with optimism.
Together with Nabriva Therapeutics, a pharmaceutical registration is filed with the US Food and Drug Administration (FDA) for the treatment of urinary tract infections using intravenous Fosfomicina® sodium.
In addition, a new method for detection and quantification of impurities and degradation products for analytical control of the drug was developed, with a related patent. International application number: PCT/EP2020/056327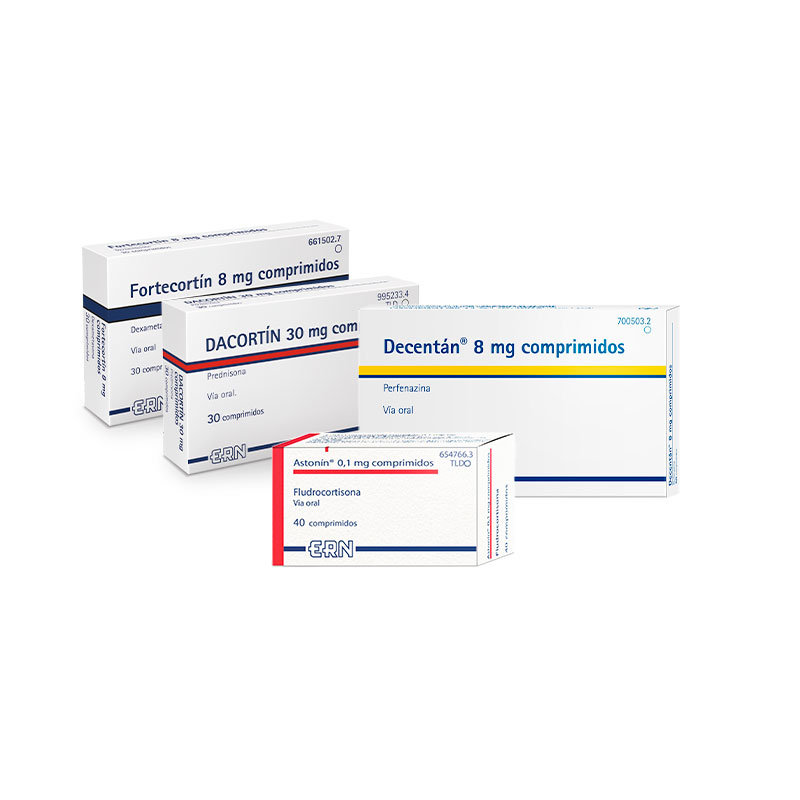 DACORTÍN, FORTECORTÍN, ASTONÍN and DECENTÁN were purchased on a national level. This purchase allowed the portfolio expansion of prescription drugs, for medical and pharmacies retail. Laboratories ERN gained importance in the corticosteroid market in Spain.
Investment in prescription drugs
In negotiations with the Uriach and Perrigo laboratories, ERN LABORATORIES has acquired during 2019 and 2020 some traditional medicines to its portfolio, well-known medicines whose safety and efficacy have been proven over time, highly recognized and widely used, such as Rupafin, Disgren and Micetal
Large investment in OTC products
It was decided to strengthen and enrich the company's line of self-care products by investing in a wide range of OTC products.
Thus, between 2019-2021, agreements were signed with Uriach and Perrigo for the sale of these OTC products in pharmacies.
A new programme of R&D&I collaborations starts in mid-2019.
The board of directors is committed to investing in innovative technologies in the healthcare sector. With the aim of extending the laboratory's traditional R&D and facilitating the market launch of innovative projects through collaboration with hospitals, universities, and start-ups.
Este apartado incluye las últimas novedades relevantes relacionadas con la compañía, como lanzamientos, congresos y noticias