Commitment with the environment
We take care of the environment, we think about the future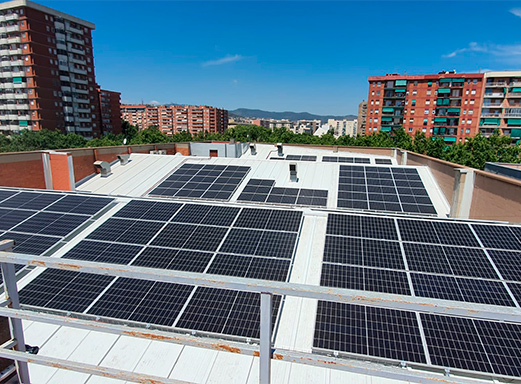 Commitment with the environment
LABORATORIOS ERN S.A. has always been committed to the environment and climate change and makes daily efforts to reduce its carbon footprint.
Since the 900/2015 Decree on photovoltaic installation's hybridization, the combined installation of two sources of energy supply is allowed, so that the equipment can remain connected to the grid, but during the hours of solar irradiation the energy produced by the photovoltaic panels is consumed.
In 2019, a study was initiated to improve and promote sustainable energy generation for the company's self-consumption in order to reduce costs as well as the carbon footprint.
Thus, in June 2020, the first photovoltaic installation of 114,4 kWp was completed at the company's logistics centre, located at the Sant Andreu de la Barca site (Barcelona). The second installation was located in the Barcelona headquarter of the company with a photovoltaic installation of 70,56kWp.
Although the company intends to expand the installation in the short term, for the moment both installations avoids the extraction of 19 tonnes of oil per year, reducing a total of 108.430 kg of CO2 equivalent to 4.338 trees.
The current PV installation has a hybrid power supply consisting of 670 modules of 280 Wp unit power, where LABORATORIOS ERN expects to reduce its dependence on grid power consumption.
At present, the energy consumed during the hours of solar radiation is not 100% self-sufficient, but in the future, we hope to reach that level. The following graph shows the monthly energy consumption versus energy generation. Although it is observed that the energy generated is lower than the energy consumed, we see a significant improvement in profitability and electricity consumption during solar hours.
On the other hand, in addition to the environmental benefits, thanks to the current photovoltaic installation, Laboratorios ERN will be able to lock an important part of its energy costs, avoiding increases in the cost of electricity.